Anti-Pandora III: An Action for Radical Practices Art Auction, 2009
Anti-Pandora works are traded through offerings, such as this one sold through the Radical Practices Live Art Auction at the Slaughterhouse Space in Healdsburg, California.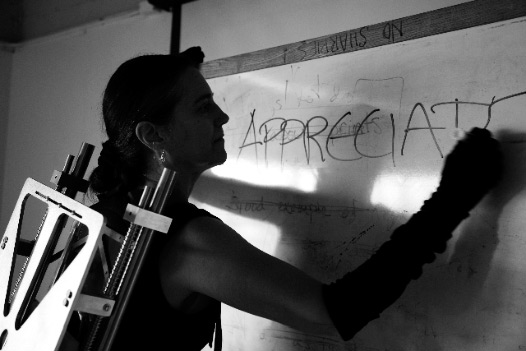 Anti-Pandora is a limited edition series (30) of art actions. The elements essential to Anti-Pandora are delving into a question to intuit a message for a particular person or community which is delivered through a symbolic action.
In actions I and II, Anti-Pandora used an innovative backpack mechanism that generates electricity from the wearer's motion. Various symbolic appliances can be run from this precious energy; in Anti-Pandora I and II it powered a light to illuminate a message. The aphoristic messages are terse, unfolding only upon reflection. To date they have contained suggestions intended to alleviate conflict or create hope for the future.
Anti-Pandora III is offered for the Radical Practices Art Auction. The purchaser agrees to participate in the work through an exploratory conversation with the artist. Within two weeks of the conversation, Anti-Pandora's message will be delivered.